Garrett Johnson proudly supports the Teega Wende Orphanage in Burkina Faso as both a One Wold Children's Fund (OWCF) champion and a project coordinator for the Canadian charity CARO.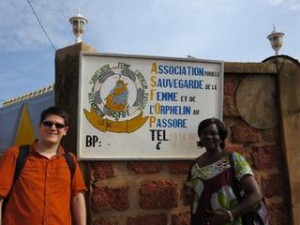 In 2004, Garrett lived in Burkina Faso as a Canada World Youth volunteer. His host parents there–Angèle and René Zida–remain dedicated to developing their country. Angèle Zida serves as the volunteer director of the Teega Wende Orphanage, which she opened together with an association of local women. Upon his return, Garrett joined an international children's charity in his hometown of Medicine Hat, Alberta named Canadians Reaching Out to the World's Children's Foundation (CARO). CARO's support grew to exceed $50,000 annually which aids over 225 orphans and the orphanage's 26 women employees. In 2014, Garrett joined the registered American charity One World Children's Foundation as a champion for the orphanage.
To learn more or to donate to the orphanage, visit our OWCF webpage, follow our updates on Facebook and read our Q&A document.
To learn more about CARO, visit our website, view photos on Flickr, take an orphanage tour on YouTube, and follow our updates on Facebook.